About Me: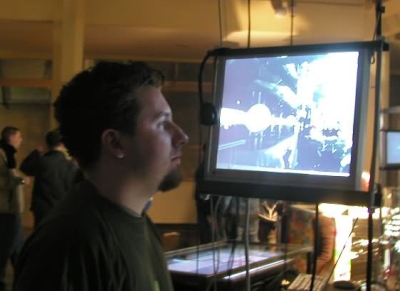 My name is Lukasz Migas. I'm 26 years old. I work in People Can Fly - a GameDev company. Also I work in Warsaw School of Information Technology under auspicies of the Polish Academy of Sciences having my own laboratories of 3D game programming. From time to time I have my own seminars about DirectX programming under auspicies of Microsoft Poland which take place at polish universities. As you may adnoticed my interests focus on 3D graphics programming (mainly games but not only), however working on a game engine forces to be expert in many other topics which could be called fundamentally - programming ;). Also I used to be an active member of a community called itself: demoscene. This is where my nickname came from. You may refer to my demoscene link for more info. Also some of my productions (demos) are placed there. Other favourities:

Music: Pink Floyd, Depeche Mode, Marillion, Air, Archive, Mike Oldfield, Vangelis, Jean-Michel Jarre and di.fm;
Movies: Twin Peaks, Conquest of Paradise, 07 zglos sie ;)
Food: I like eating, there're too many awesome dishes to mention them all, mainly french food :)
Drinks: soft - cactus juice, alcohol: wine - bordeaux moelleux;
And at the end as a programming freak, my wonderful machines which allow me to move imagination into some visible/functional forms called programs:
Desktop:
AMD Athlon64 3000+ (Winchester core),
Gigabyte at nForce3 Ultra,
1024MB DDR400 RAM DualChannel,
Seagate Barracuda 120GB x2,
NVidia GeForce6800 GT,
Creative SoundBlaster Audigy2,
Antec 1080 AMG with 430W PSU,
NEC 16x DVD+/-RW,
ASUS 16x DVD-ROM,
Fujitsu Siemens 17" LCD,
Logitech MX700 Mouse,
Microsoft Natural Elite Keyboard.
Laptop (ACER Aspire 1682 WLMI):
Intel P4 Centrino 1.6GHz,
1024MB DDR333 RAM,
Toshiba 60GB,
ATI Radeon9700 Mobile,
AC97 :|,
Widescreen LCD 1280x800,
Pioneer 8x DVD+/-RW,
Logitech MX510 Mouse.



If you want to contact with me:
lettique(at)wsisiz.edu.pl, SPAM Killer with very strict rules
ICQ:111931126